Paragraph on My Mother: A person who happily gives her whole life for the development of her children and husband is called a mother. A mother is the one who not only gives birth to her children but also takes care of her children without rest. She sacrifices not only her day but also her nights. In simple words, a mother is a name of sacrifice.
Short and Long Paragraph on My Mother In English for Students
So now we're providing short and long written paragraphs on my mother for classes 1,2,3,4,5,6,7,8,9,10,11,12, and students of higher classes with different word counts. These paragraphs are helpful for kids, children, and students of any age and class. You can also read our article on my hobby essay.
Paragraph on My Mother – 100 to 150 Words for Class 1,2,3
The most important person in the life of a person is his or her mother. There is also a super character in our real lives and that is the mother. So for me, that special character is my mom as she is a superwoman. Regardless of day and night, my mother is always there for me.
Like everyone's mother, my mother is a hard-working woman. She worked day and night for my whole house. I learn almost everything from my mother, as she's my first teacher. My mother taught me manners in everything, like manners of eating, manners of talking, and so on.
My mother is my guardian, as she's my source of inspiration. She guides me in every sector of life, her guidance motivates me a lot. She also helps me in choosing friends as she told me that " Choose your friends wisely ". My mother also helps me in my studies. I can't imagine my life without my mother.
Short Paragraph on My Mother – 150 to 200 Words for Class 4,5,6 Children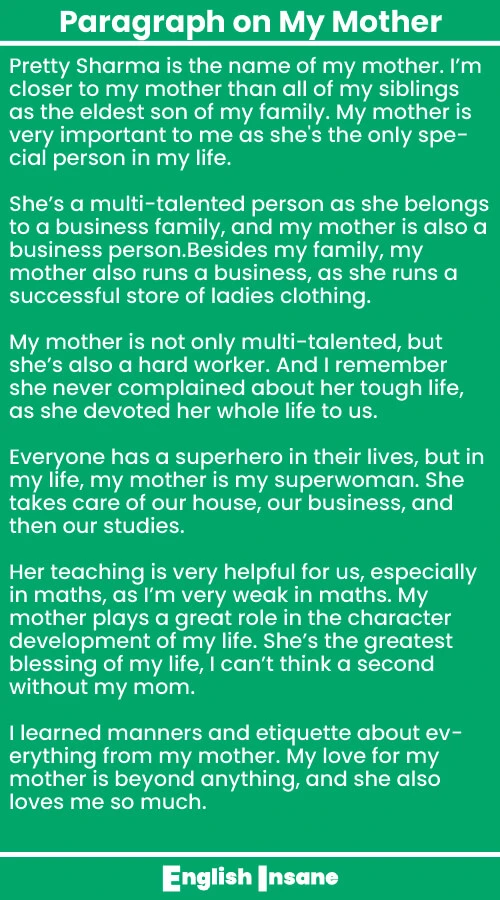 Pretty Sharma is the name of my mother. I'm closer to my mother than all of my siblings as the eldest son of my family. My mother is very important to me as she's the only special person in my life. She's a multi-talented person as she belongs to a business family, and my mother is also a business person.
Besides my family, my mother also runs a business, as she runs a successful store of ladies clothing. My mother is not only multi-talented, but she's also a hard worker. And I remember she never complained about her tough life, as she devoted her whole life to us.
Everyone has a superhero in their lives, but in my life, my mother is my superwoman. She takes care of our house, our business, and then our studies. Her teaching is very helpful for us, especially in maths, as I'm very weak in maths.
My mother plays a great role in the character development of my life. She's the greatest blessing of my life, I can't think a second without my mom. I learned manners and etiquette about everything from my mother. My love for my mother is beyond anything, and she also loves me so much.
Paragraph on My Mother – 200 to 250 Words for Class 7,8 Students
A mother is the one who carries her child for nine months in her womb and then carries it in her heart for her whole life. My mother is an inseparable person in my life for me. Her love for me never becomes less, despite the fact that we're four brothers and sisters.
My mother did everything for me, she never gave up on me. She continues to love and support me regardless of what I have done to her in childhood. She is the best adviser for me as she's always there to help me. So I always take advice from her in all aspects of my life.
We're three siblings and I'm the eldest one. So I witness her countless blessings and efforts to raise all of my siblings. And I can never be a strong and hard worker like my mother.
Whenever I feel hopeless at any stage of my life I used to take questions from my mother. And her questions work as a magical solution to my problems. Her lessons teach me that anything becomes possible when you work hard with determination.
My mother plays a significant role in making me a better person. She taught me about good and bad manners. She's also a very intelligent person and I always seek her advice. Because she has vast experience in almost every sector of life.
Long Paragraph on My Mother – 300+ Words for Class 9,10,11,12 Students
Many people will come and pass from your life but family will always stay at your side. No matter what situation you have to face, the family will always support you, especially in your bad times. But when we talk about one specific person in your family who supports you unconditionally. That one person is always your mother.
Like everyone's mother, my mother is the one who supports and encourages me to achieve the goals of my life. She taught me to always have faith in myself and in my work. Because it's the faith of a person by which he or she can achieve physically impossible goals in their life.
My mother works hard day and night to ensure that we get a quality education. She also takes care of all the members of our family. My mother is a real leader for me, as she is always there to protect me. And she always helps to make a difference between good and bad deeds.
My mother always encourages me to make small decisions in my life by myself. Because she told me that taking small decisions in life by myself will lead me to make big decisions in the future easily. I just take guidance from her and then I make decisions according to her guidance.
Sometimes when I feel low due to my bad days and I can't figure things out. At that time my mother was motivated to cheer up and face the situation boldly. My mother does everything for me, she wakes me up early for school. And prepare breakfast for me, she also gives me a lunch box for my school.
My mother sacrificed everything for me and my family. She just wants to keep everyone happy in my family. She always prays for the good health of our family. For me my mother is everything, I can't define my love for my mother. She also loves me infinitely as she is the best mom in the world.
FAQs on Paragraph on My Mother